Profile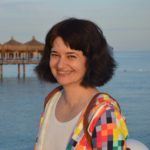 Maja Popovic
Curriculum Vitae
Education:

RWTH Aachen university, Computer Science Department (PhD); Faculty for Electrical Engineering, Belgrade, Serbia (BSc+MSc); Mathematics High School, Belgrade, Serbia (school)

Qualifications:

Dr.-Ing. (PhD in computer science/engineering), Dipl.-Ing. (BSc+MSc in engineering)

Work History:

researcher at: * Humboldt University of Berlin, Germany; * DFKI institute, Berlin, Germany; * RWTH Aachen University, Germany; * IDIAP institute, Martigny, Switzerland; * IMP Institute, Belgrade, Serbia; * Faculty of Electrical Engineering, Belgrade, Serbia

Current Job:

post-doctoral researcher

Employer

ADAPT Centre @ DCU

School of Computing

Dublin City University

Ireland
About Me

a scientist who loves math, languages, music, travelling, nature

Read more

I am originally from Serbia (do you know where it is? South-East Europe) and I've lived and worked in several places in Europe (Switzerland, Germany, Ireland).  I like learning and using new languages and getting to know different cultures, making friends from all over the world.

I've heard many pronunciations of my first name 😀 but the correct one is: M as M in English, both As as "u" in "cut", J as "y" in "yes".

Apart from maths, I love music (finished a music primary school for piano (6 years) and took singing lessons) and languages (in addition to Serbian, my native language, I speak English, German, Spanish and a little bit of French and Slovenian, and I am translating from time to time).

How I Use Maths In My Job:

Fractions, Decimals & Percentages

Statistics & Probability

Functions

My Work

Maths can be applied on languages (it is called Computational Linguistics or Natural Language Processing)

Read more

I work in Natural Language Processing (NLP), a science which teaches computers to process and analyse large amounts of natural language (English, German, French, Japanese, Chinese, …) data.

Most of the time I work on machine translation, a sub-field of NLP where computers translate from one language to another using probabilities. The probabilities can be calculated as percentages of words and phrases seen in the two languages, or by applying a lot of functions (a neural network) on the texts.

Do you know what Google Translate is? Just one of many computer programs for machine translation.

My favourite part is to look into the text which a computer translated into a language I know, and see which kind of errors appear most often. And then, I have to find a mathematical formula which I can use to teach a computer to find these errors.

My Typical Day

Every day is different, except of 2-3 cups of coffee.

Read more

Sometimes I think about what I would like to find out that nobody has found out so far. Then, I have to find out how exactly to use maths to do it. Once I have a computer program doing the necessary maths, it produces a bunch of numbers and I have to figure out what all those numbers actually mean! When I do, I have to write about it so that the other people can read it. Some days I spend travelling to conferences, visiting different places in order to meet with other people doing similar things and tell them about my work, and also to hear about their work.

Some days I am doing only one of these things. Sometimes even one thing for several days. Other days I do a little bit of everything. Most often it is a mixture of one or two.
My Interview

What or who inspired you to follow your career?

My Grandpa was electrical engineer, my Mum was translator, therefore both mathematics and languages.

What's your favourite use for maths in everyday life?

using ratios and proportions for cooking

What did you think about Maths when you were in school?

I adored it (I choose a Mathematical High School after all! :))

What did you want to be after you left school?

electrical or civil engineer, or mathematician

Were you ever in trouble at school?

a little bit in the primary school, nothing serious

If you weren't doing this job, what would you choose instead?

opera singer or hairdresser

Who is your favourite singer or band?

hard to chose one, there are so many; to mention a few -- REM, Joy Division, Nick Cave, System of a Down, ...

What's your favourite food?

meat, vegetables, salads, fruit, creamy/chocolate sweets

What is the most fun thing you've done?

spending a week in a Swedish national park north of the polar circle, without anything around except reindeers, lemmings, etc (not even a mobile phone signal)

If you had 3 wishes for yourself what would they be? - be honest!

to know all the languages in the world (at least to understand), to be a great programmer, to have enough time for everything that interests me

Tell us a joke.

A programmer's husband gives her a shopping list: "Buy butter. If they have eggs, buy 10." She comes home with 10 packs of butter. The husband is completely perplexed "Why on Earth did you buy 10 butters?!?" so she explains "They had eggs.".
---