Profile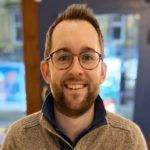 Nathan Turner
Curriculum Vitae
Education:

Sir Harry Smith Community College, Peterborough and University of Oxford

Qualifications:

GCSEs: Maths, Stats, Physics, Chemistry, Biology, History, German, Physical Education, IT, Religious Education; A Levels: Maths, Further Maths, Physics, Chemistry, Biology

Work History:

Part-time shop assistant - Sole Trader shoes; Supply Chain Intern at Rolls-Royce, Graduate trainee at Rolls-Royce, Performance Engineer at Rolls-Royce, Performance Team Leader at Belcan, Non-Acoustic Signatures Engineer at BAE Systems

Current Job:

Non-Acoustic Signatures Engineer

Employer

BAE Systems Naval Ships, Glasgow
About Me

A mathematician who designs aero engines and surface combat ships

Read more

I grew up in Cambridgeshire and studied at Oxford University before moving to Glasgow, where I now live with my wife. I am into Applied Mathematics, Formula 1 and cooking. I also love playing badminton and football.

I'm an active member of the Institute of Mathematics and its Applications, and have served on their governing Council for 4 years. This means I get to influence the direction of the Institute by providing my views on how they should support young people through STEM, and support mathematicians working in industry.

My interest in maths started at school and has continued throughout my career. I love discovering new ways of applying mathematics in the real world and sharing these with young people to educate and inspire them!

How I Use Maths In My Job:

I use loads of maths in my job every day. A great example is working with percentages and statistics when analysing large data sets which have been acquired from thousands of aero engine flights. I have to use mathematics and statistics to extract the key information from the data set and inform decisions about which engines require inspection or maintenance.

Another example is the use of algebra and calculus to model the engine using a computer program. This allows us to investigate how engines could behave under different conditions.

My Work

I use maths to design aeroplane engines and combat ships

Read more

My career began at Rolls-Royce, Derby where I designed turbofan engines for passenger aeroplanes. My job was to build models of the engine, then use these models to simulate the engine. This allowed me to understand how the engine behaves, for example how much fuel it uses. This enables the design of the engine to be changed to improve the power and efficiency of the engine.

Rolls-Royce Trent 7000 engine on the Airbus A330neo aircraft

As part of my job at Rolls-Royce, I supported a test at an Altitude Test Facility in the USA. This is where the engine is run inside a chamber, where reduced pressure air is accelerated towards the engine to simulate flying at high altitude (up to 40,000ft, 0.8Mach!) as if the engine was flying on a real aircraft. I carried out special tests where we understood how the engine behaves when pushed to its limits.

Rolls-Royce engine at Altitude Test Facility, Tennessee, USA

My latest job is with BAE Systems, Glasgow where I model the Type 26 frigate surface warship. I am responsible for creating models of the ship, from which I can determine the radar and infrared signatures of the ship. This is important to minimise the risk of detection from other vessels.

Type 26 Hunter Class Frigate

My Typical Day

I either travel to the office or log in to my computer from home. I check my emails and chat with my teammates first thing and plan my day. My day is a mixture of attending meetings to discuss project progress or share latest conclusions, and carrying out modelling work. I usually start & finish quite early so I can enjoy cooking my dinner or do some exercise before relaxing in the evening!

Read more

A typical day for me looks like this:

7:00-7:30 Cycle/drive to the office or log in from home, make a coffee

7:30-8:00 Check emails and plan for the day: meetings, work to be done

8:00-10:00 Get started on any technical work – modelling and analysis

10:00-10:15 Coffee and small admin tasks

10:15-12:00 Meetings or more technical work

12:00-13:00 Lunch + walk

13:00-15:00 Finish technical work for the day and discuss conclusions with colleagues

15:00-16:00 Wrap up the day: emails, update systems

16:00 Early finish – go to make dinner, exercise or do some chores before relaxing

What I'd do with the prize money

Design and build an interactive STEM activity for understanding applications of mathematics in the real world

Read more

I currently have some ideas which could be formed into an interactive STEM activity for school students. An example is an interactive infrared measurement activity using the model of a ship. I would love to put the money towards designing a packaged activity which could be used by STEM ambassadors to inspire school students.

My Interview

How would you describe yourself in 3 words?

Enthusiastic, reliable, leader

What or who inspired you to follow your career?

Many mathematicians working in engineering

What's your favourite use for maths in everyday life?

Weather forecasting

What did you think about Maths when you were in school?

I loved maths for what it was but I had no idea how amazing the real world applications were

What did you want to be after you left school?

I wanted to apply mathematics to the real world, but nothing specific!

Were you ever in trouble at school?

A little bit... But I matured and was elected as Deputy Head Boy

If you weren't doing this job, what would you choose instead?

I would love to own a restaurant and design the menu

Who is your favourite singer or band?

Luke Combs (Country music singer!)

What's your favourite food?

What isn't!? I love a perfectly cooked burger

What is the most fun thing you've done?

Attended the British Grand Prix at Silverstone

If you had 3 wishes for yourself what would they be? - be honest!

Own a restaurant, go to every F1 Grand Prix, own a snooker table

Tell us a joke.

My wife told me I had to stop acting like a flamingo. So I had to put my foot down.
---