Profile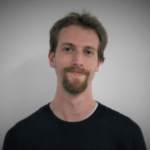 Gary Munnelly
Curriculum Vitae
Education:

Ashbourne Community School, Meath

Qualifications:

Bachelors in Engineering, Diploma in Health Informatics, PhD in Computer Science

Current Job:

Research Engineer on the Beyond 2022 project (check it out).
My Work

I'm a computer scientist working in Trinity College Dublin. I help computers to read, learn, and understand history.
My Interview

How would you describe yourself in 3 words?

0x4920616d20612067 0x7265617420626967 0x206e657264213a29

What's your favourite use for maths in everyday life?

Video games! There's a goldmine of interesting maths in every video game.

What did you think about Maths when you were in school?

I didn't really like it, if I'm being honest. It was too abstract and I couldn't see how I would ever use it. In college I started to see how I could use maths to solve problems that were interesting to me.

What did you want to be after you left school?

I hadn't a clue. Writer? Game developer? I mean, if we break it down to the essentials, I wanted to be some combination of rich and famous.

Were you ever in trouble at school?

Eh, I was a wee bit of a swot, so no, not really.

Who is your favourite singer or band?

Tom Waits will forever be the answer to this question.

Tell us a joke.

Chuck Norris once walked into a Burger King and ordered a Big Mac. And he got one.
---