Profile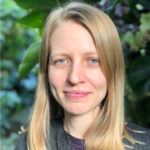 Roz Eggo
Curriculum Vitae
Education:

King Edward VI Camp Hill School for Girls

Qualifications:

10.5 GCSEs, 5 A Levels, BA (Hons) Natural Sciences, MSc Modern Epidemiology, PhD Mathematical Modelling.

Current Job:

Assistant Professor of Infectious Disease Modelling

Employer

London School of Hygiene & Tropical Medicine.
About Me

I work on the transmission of infectious diseases. I try to understand how and why they spread, so that we can design interventions to stop them.

How I Use Maths In My Job:

Maths is very important to modelling infectious diseases. There is chance involved in transmission of infections – the chance of meeting someone who has the infection, the chance of catching it if you meet them, and then the chance of passing it on. All of these probabilities are included in models of disease transmission, as well as how much they are altered by interventions, such as vaccination.

My Work

I study the transmission of infectious diseases in populations. My research aims to understand these processes enough in order to design better vaccination strategies.
My Interview

My favourite CHRISTMAS LECTURES memory is:

Zombies everywhere!

What did you think about Maths when you were in school?

I liked it

What did you want to be after you left school?

Biochemist

Were you ever in trouble at school?

No

If you weren't doing this job, what would you choose instead?

Graphic Design
---