Profile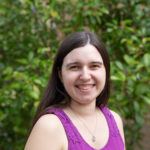 Samantha Durbin
Curriculum Vitae
Education:

Gravesend Grammar School for Girls (now Mayfield Grammar School), University of Bath and the University of the West of England

Qualifications:

15 GCSEs, 4 A-Levels (Maths, Further Maths, Chemistry & ICT), 2 AS-Levels (Sociology & General Studies), Master of Mathematics (MMath - an undergraduate masters) & MSc in Science Communication (post-graduate masters)

Work History:

I worked as a tutor while in sixth form and at university. During my MSc I worked as a tutor at the University of Bath (where I'd done my undergraduate degree) and for the Institute of Physics helping run public events and activities in South West England. After my MSc I worked for the British Science Association as a STEM Clubs Advisor, helping teachers to run STEM clubs across South East England and half of London, and I've been at the Royal Institution since June 2013.

Current Job:

I manage the Secondary Mathematics Masterclass programme at the Royal Institution, working with contributors across the UK to run series of extra-curricular maths workshops for young people

Employer

I work in the Royal Institution's (Ri) Masterclass team. The Ri is a science communication charity dedicated to encouraging people to think more deeply about science and it's place in our lives. In my team, we run series of workshops for young people in maths, engineering and computer science, aiming to allow them to explore the subjects in depth and get an insight into what they actually are beyond what you see in the classroom. This is one of the free educational activities on offer from the Ri – we have a range of other school-based and a whole host of public activities, as well as a fantastic YouTube channel. And of course there are the CHRISTMAS LECTURES – in fact, the first CHRISTMAS LECTURES series on maths back in 1978 started off the Masterclass programme that I work on. To find out more about us search www.rigb.org, or see www.rigb.org/education/masterclasses for more information on my work. I also highly recommend searching for "The Royal Institution" on YouTube, we've got everything from short demos to full hour-long talks on a whole range of topics. You can also watch many of the past CHRISTMAS LECTURES on our website.
About Me

I am a mathematician and primarily a maths communicator, which means my job is to take the maths I love and share it with the wider world in different ways. I love reading, board games and craft. I am also a Brownie leader and a feminist. My pronouns are she/her.

Read more

I live in South East London with my two cats and my husband joins us at the weekends. We're both quite geeky and have a fairly large Lego collection, as well as being big Disney/ Marvel film fans. I'm a massive bookworm and read a mixture of fiction and non-fiction books – current top suggestions are "Invisible Women", "It's not about the burqa", "Nasty Women" and "Women, Girl, Other", and my favourite authors are Terry Pratchett and Ben Aaronovitch. The books I'm most excited about getting for Christmas are "Britain in Numbers" and "The Gendered Brain". I'm also really into craft (something I share with my mum) and I'm often found with a crochet hook and some wool to keep my hands occupied.

When I'm free I enjoy spending time with family and friends, and like getting together to play board games (not traditional games like monopoly – there are lots of different types of games out there now. If you want recommendations of different things to try I'd suggest "pandemic" which is a very mathematical co-operative board game, "alhambra", "kingdom builder" and "dominion", which is one we got started on). We've been playing escape room games recently which have been great fun.

I've always enjoyed maths, which isn't about numbers or mental arithmetic but is about patterns and puzzles. I enjoy playing with puzzles and finding out about interesting and cool maths stuff; there's a great community (on Twitter, YouTube, etc.) of people who like sharing this sort of thing, but I don't spend too much time doing this as it does feel quite like work and I need some time off every week. I'm lucky enough to have some awesome friends who do this sort of thing regularly and it's really interesting seeing what they share.

While I was at university I found out that you could make a career out of doing maths with lots of different people and helping them to find the bits of the subject that they loved, and I've never looked back. I am lucky enough to have found a career I really enjoy and am good at. I love giving young people the space and tools to be inspired with maths, and even more working with mathematicians to give them opportunities to be inspiring. I'm also really passionate about helping to improve equality, diversity and inclusivity* in the STEM subjects, and am trying to focus on this more in my work (and everyday).

I also do some volunteering: I've been a Brownie leader since I was 14 and am currently with a group in Westminster. Three of us work together to run the group and we have a great time with the girls doing all sorts of different activities that we want to share with them, from cooking and craft to DIY and sign language. I also work with three other maths communicators (Katie Steckles, Ben Sparks and Kevin Houston) to organise a conference every two years for other people who do maths stuff with the public, where we can share ideas, meet other people doing similar things and improve what we do.

(*This means increasing the amount of different people involved, making sure that everyone has the support and environment they need to be able to be involved, and they all feel comfortable and able to get involved as much as they would like to be – so they know they will be respected, valued and what they will do will be recognised properly. It's been explained to me like this – diversity is being invited to the party, inclusivity is being asked to dance)

How I Use Maths In My Job:

I use maths to help people create workshops based on their own favourite maths topics, as well as making my own workshops and resources for other people to use. I have to make sure there are lots of different activities in a workshop, that everything is explained at the right level for people to understand, and that everything fits together well to tell a story. The people we work with might choose any topic to focus on – something they do in their work or research, or just something they find really interesting, so I have to be able to find out about new topics and help them explain something they understand really well to someone who might never have heard of it before (which might include me!).

My Work

I work with people across the UK to run series of maths workshops for young people, with each workshop focusing on a different topic outside of what you would see in the classroom.

My Typical Day

I usually work from 10-6. On weekdays there are always a lot of emails to answer, then I might give feedback on plans for a new workshop, do some work on a resource I'm writing, or prepare for a workshop I'm delivering. Sometimes I'll go out and run a Primary maths workshop, or work with new workshop leaders or sixth form students who want to deliver their own workshop. on Saturdays I will be somewhere in the UK at a Secondary Mathematics Masterclass, either delivering the workshop or seeing someone else deliver a session on their own favourite topic.
My Interview

My favourite CHRISTMAS LECTURES memory is:

Helping to test and improve some of the demos for this year's lectures with Hannah and Matt

How would you describe yourself in 3 words?

Thoughtful, creative and hardworking

What or who inspired you to follow your career?

When I was at university I did a project called "Communicating maths to the public". We had to work in groups to develop and deliver an Ri Masterclass, a stall at a science fair and two other things where you were communicating maths to a public audience. It was the first time I realised maths communication was a career - that I could spend my like sharing my favourite bits of maths with people and helping them to find out what maths actually is, and how interesting it can be. I am really lucky to have found a career I enjoy and my current job is a perfect fit for me

What's your favourite use for maths in everyday life?

I love that there is maths in everything we do! My all-time favourite use is mathematical modelling, where we use maths to help us understand the world around us and make predictions for the future

What did you think about Maths when you were in school?

I enjoyed it - by the time I got to sixth form I wished I didn't have to do other subjects any more. I liked being able to find patterns and get to definite answers.

What did you want to be after you left school?

I wanted to be a lecturer in maths and do maths research

Were you ever in trouble at school?

I was pretty good for the first five years which meant I got away with a lot of late homework when I was in sixth form

If you weren't doing this job, what would you choose instead?

I have always loved reading, so perhaps running a bookshop?

Who is your favourite singer or band?

I love singing along to the radio but can never remember who anyone is...

What's your favourite food?

Pasta and chocolate (not together)

What is the most fun thing you've done?

On my honeymoon we went walking on a glacier in Iceland and drove snowmobiles at night through a forest in Sweeden to go and see the Northern Lights - definitely the best experiences I've had

Tell us a joke.

Why did the chicken cross the mobius strip? To get to the same side.
---